Veronica DeBoisbriand is a recent Charlotte transplant and one of the newest members of the Charlotte AIGA fam. A Florida-native and tapestry-weaving extraordinaire, Veronica finds inspiration all around her and hopes to find some in her new home state. But enough from us, let Veronica tell you for herself—read her Q & A below and make sure to say "hello" and give her a warm welcome to the QC!
---

Where are you from?

I recently relocated to Charlotte from Florida, where I had spent most of my life.
In 2017, Hurricane Irma was headed toward Florida and it was predicted to hit as a cat 4 or 5 storm. My husband and I got up one morning and were debating whether to stay and ride out the storm or to get someplace safer while we could still evacuate. We had no plan on where to go. We threw everything we could in the SUV and headed north with our dog.
We knew, with all the other evacuees, it wasn't going to be easy to find a place to stay. We figured we would have to sleep in the vehicle at rest stops for a few nights. But we were very lucky. While we were driving, a friend of ours got on the phone and started looking for a hotel for us (that would take a dog, too). The closest place we could find was in Charlotte! We ended up staying here for 4 or 5 days.
We really liked the area. We had been thinking of a change for a while but didn't know where we wanted to go. So a year later, we put our house up for sale and decided to start anew here!
What attracted you to the design profession? Did you have particular mentors or experiences that opened the door to the profession for you?
I have been an artist for as long as I can remember. I showed in local and regional art shows in high school and a piece of my work was selected to be on display for a year in the Florida state capitol.
In high school, I had a teacher who made me stand on a table and look at my art from a different perspective. That was a bit embarrassing but I learned from it. After high school, I went on to the Art Institute to learn about advertising and graphic design. I believe that strong composition is important in both fine art and the design profession.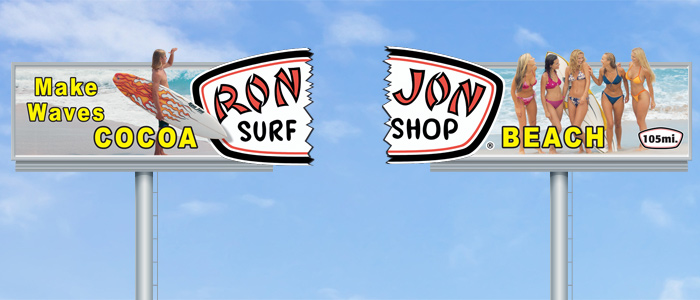 What's your proudest accomplishment?
The Ron Jon Surf Shop split billboard design is my proudest accomplishment.
There were two billboards on the Florida Turnpike which presented a unique opportunity for the creative. They were facing and closer to the road than are usually allowable. I came up with the idea to make it look like one large billboard with the road going through it. So I put the logo on the "inside" and broke it in half. As you approach the billboards, it appears the boards are moving apart and you are driving through the center.
When I presented the idea it wasn't greeted with great enthusiasm. Split the logo? It was breaking all the branding rules. I eventually got the go ahead. In the end, the two billboards attracted so much attention! People were calling the president of the company to say how great the concept was! We had a whole campaign of billboards but this location really got people talking. Since that time the company has tried to look for other locations to duplicate the concept.
What's your favorite font?
Fonts are so bountiful today, how can I pick ONE font! Each font has its own unique nuances that reinforce the entire impact of a design. They are the unsung hero! That is what makes them so interesting to work with. I believe you can tell true designers by their use of fonts and in a lot of cases their restraint.
Where do you get your inspiration from?
Everywhere. It is hard to say. I go to the movies and look at the fonts used. I look at the composition of work from others designers. I ask myself what draws me to that design, what makes it effective or what approach I would take with the same material.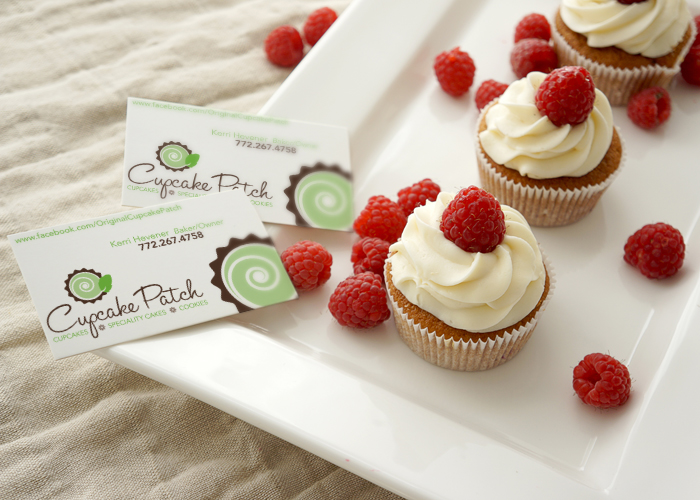 What profession other than your own would you like to attempt?
I would become a chef. It is another area that has creativity. It is fun to start with a recipe or idea of what want to make it. Then by seasoning, changing some ingredients and tasting I can elevate a dish.
How and why did you get involved with the AIGA? Approximately how long have you been involved with the organization?
I am new to the AIGA. I always wanted to be a member but I was too far away from the chapters in Florida. I am looking forward to getting involved and getting to know people in the Charlotte creative community.
What would people be surprised to know about you?
I have a Belgium Malinois dog that I do human scent tracking with. It is quite enjoyable and it amazes me that he can follow in the footsteps of someone who has gone that way hours before.
What is your secret talent?
I draw and I also weave tapestries.
---

Would you like to be featured in our Member Spotlight?
Got a big project you want to show off or want to get your name out there? The AIGA Membership Spotlight is a great place to start! If you or someone you know would like to be featured on our blog, just follow these simple steps:
• You must be an active AIGA member to participate. Want to become a member? Sign up here!
• Email Membership Director, Gavan Leatham (gleatham@charlotte.aiga.org) and tell us why you should be featured. If selected, our membership director will be in touch.