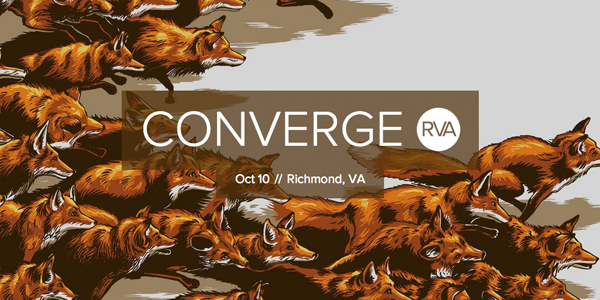 ConvergeRVA
Friday, October 10th, 2014 / Richmond, VA
ConvergeRVA is a full day of exploring design for the web and traditional media. Come out and get inspired and educated from some of the best we could find.
SPEAKERS
Some of the finest practitioners in user experience design, user interface design, and web development will be joining us to share some amazing ideas.
James White – Signalnoise Studio
Nick Wilson – Facebook
Maria Fabrizio – Wordless News
Garth Braithwaite – Adobe
Noah Scalin – Designer
Tiffany France – UX Designer
Moldover – Musician
Find out more about the speakers here.
ConvergeRVA takes place in the beautifully restored Hippodrome Theater. They'll also give you plenty of opportunities to eat, drink and party with the speakers and other attendees.
Get your ticket now while early bird pricing of $99 is in place. There are a limited number of these special priced tickets available, when they're gone the price goes up to $150.
Presented by Unmatched Style and The Iron Yard
Find out more about the conference, see what to expect.
[mappress mapid="24″]