Peter Coughter: The Art of the Pitch
Tuesday, March 4, 2014 / Charlotte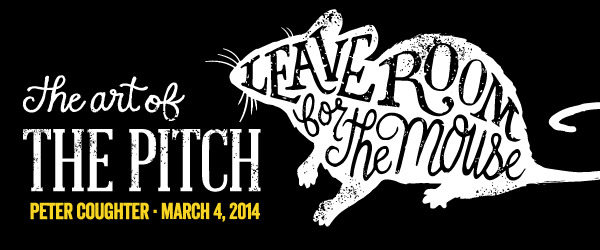 Part of AIGA Charlotte's 2014 Head, Heart, and Hand Lecture Series.
DETAILS
Tuesday, March 4, 2014
6:00 PM - 9:00 PM
Stage Door Theatre
130 N. Tryon Street
Charlotte, NC 28202
REGISTRATION REQUIRED: Due to contractual restrictions, we will not be selling tickets at the door. To attend, you must register in advance.
Early bird registration ends December 31st.
| | Non-Member | Contributor | Supporter-Trustee | Students |
| --- | --- | --- | --- | --- |
| Early Bird | $15 | $12 | $5 | $5 |
| General | $20 | $16 | $10 | $10 |
Here's something that doesn't need much of a pitch at all: grab yourself a copy of Peter Coughter's celebrated book. If you bring it to the event, you're assured of scoring his John Hancock.
Occasionally a good idea will sell itself. The other 99% of the time, you have to find a way to persuade others that it is, in fact, a great idea.
Most creatives spend the vast majority of their time creating their work, and almost no time on the presentation. Author, professor and veteran pitch master Peter Coughter wants to change this.
With his professional experience and stories he's collected from others in the industry, Peter will share some of the tools he's designed to help advertising professionals develop persuasive presentations that deliver business.
Come out and join us to learn how to hone your natural presentation style, how to organize a powerful presentation, how to harness the elegant power of simplicity, how to truly connect with your audience, how to rehearse effectively, and most importantly, how to win!
Peter Coughter is a Professor at the VCU Brandcenter at Virginia Commonwealth University and President of Coughter & Company, an advertising agency consulting firm. His book, The Art of the Pitch: Persuasion and Presentation Skills that Win Business, will help you learn how to present your ideas to win new business and get clients to buy in the first time.
"What you'll love about this work is the total freshness it brings to presentations. From the very first chapter, Coughter redefines the challenge, resets the approach and shares invaluable tales from the front lines that will make you ache for a chance to get back in the game." – Dan Wieden, President, Wieden & Kennedy
"So you've spent hours, days, and weekends working on your next big idea? Well, all your work may count for diddly squat if you can't sell it. That's where Coughter's book can help. It's like getting one of his valuable Workshops in book form." – Luke Sullivan, Chair, Advertising Department, Savannah College of Art & Design and author of Hey Whipple, Squeeze This
'This book is full of stories from great presenters. I know many of them. Three are on my list of the top people I've ever heard present. Peter Coughter is the best of them. Every creative person, every account person, every client, every Marketer everywhere should read this book. It is essential to selling your ideas." – Pam El, VP, Marketing, State Farm
"Peter Coughter is not only a master of the pitch, he's an outstanding teacher. Read what he writes, and then read it again. This book is a gem." – John Adams, Chairman, Chief Executive Officer, The Martin Agency
Design Partner

Theory House is on a mission to build North America's next great retail brands. Our agile agency moves at the speed of retail to transform casual shoppers into committed customers.
Our team has supported leading retailers like Food Lion, Walgreens, Lowe's, Walmart and The Fresh Market and brands like GUNK, Chobani, Millstone and Husqvarna.
Parking Information
A special preferred parking rate of only $5* is available for our patrons in their designated garage. Please park in the Bank of America Center Parking Garage. Entrances at: 150 N. College Street and 290 E. 5th Street.
If available, there is always street parking. More information on parking and directions can be found here.
Member Attendees