Design Lives Here
Thursday, January 23, 2014 / Charlotte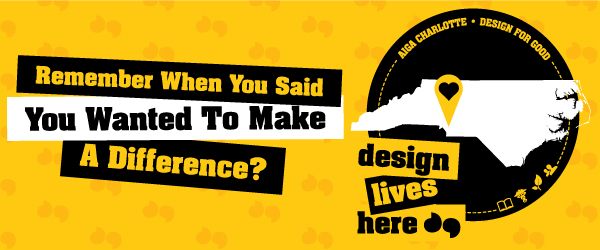 A three-month collaboration between local nonprofit organizations, Queen City's best and brightest designers, and a crack advisory team.
DETAILS
Thursday, January 23, 2014
6:30 PM - 9:00 PM
Peculiar Rabbit
1212 Pecan Ave.
Charlotte, NC 28205
All RFP's must be received by January 16th. Registration for this event has ended.
Are you an interested nonprofit organization or a designer?
The purpose of Design Lives Here is to enable Charlotte creatives to highlight the impact design can have on all aspects of our community. We will achieve this by pulling together groups of designers, copywriters, videographers, and other creatives onto teams that will collaborate on projects for nonprofit organizations in four specific areas: Educational, Environmental, Social and Health. Through this process, the nonprofits will receive professional design work that addresses a specific problem which is unique to that organization.
Following the three month project, the teams will prepare case studies, as well as identify the overall impact for the nonprofit organization. With these case studies we will identify which projects had the most impact and use that knowledge to inform future projects.
Why Nonprofits Win
Beyond access to professional design work, nonprofits will also receive several other benefits. Some of those benefits include organizational leaders will learn the benefit of design, how professional design can impact their daily lives at the organization, and how to have a better working relationship with designers. With that being said, one of the main benefits of the program will be access to completed collateral, through either our production sponsors or project category sponsors. The guidelines for nonprofits are simple, and as follows:
1. Nonprofits will submit an RFP for evaluation before being invited to participate.
2. Teams will help define the problem AND solution.
3. Nonprofit leaders must be directly involved.
4. Nonprofits must be available for follow-up and case study.
Why Designers Win
Designers that choose to be part of a design team will have a unique experience that will not only help them expand creatively, but also help them become part of the greater design community. Team members will work directly with other local designers that they may not have had the opportunity to work with before, get creative guidance from some outstanding design professionals on our advisory team, and also learn firsthand how they can be a force for change in Charlotte. Once teams are assembled the guidelines are straightforward, and as follows:
1. Designers will submit an RFP for evaluation before being invited to participate.
2. All teams must have a designated project manager.
3. All teams must establish benchmarks with measurable results.
4. Teams will meet twice during the project with the nonprofit's leadership, as well as the Advisory Team.
5. Teams must keep track of work hours.
6. Teams must present completed work and complete a case study afterwards.
Your Secret Weapon: The Advisory Team
The Advisory Team will consist of a group of seasoned design professionals who are volunteering their time and expertise to help make sure the projects excel. The advisory team will provide guidance, sharing their experiences as a mentor, being a sounding board, and adding a critical eye to make sure projects are proceeding smoothly. Our stellar 2013 Advisory team includes:
Brady Bone / Former AIGA President
Todd Aldridge / Vice President & Creative Director at Luquire George Andrews 
Leslie Kraemer / Principal & Creative Director at Birdsong Gregory
Chris Cureton / Graphic Designer at Addison Whitney
AIGA Charlotte is in the process of securing a variety of different sponsors to help see each project through. But for now, what we need most are nonprofits who want help, and designers who want to help them.
Are you an interested nonprofit or designer?
Production Sponsors
Member Attendees